Day 1 :
Keynote Forum
University of Dayton, USA
Time : 10:05-10:35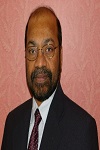 Biography:
Vijayan K Asari is a Professor in Electrical and Computer Engineering and Ohio Research Scholars Endowed Chair in Wide Area Surveillance at the University of Dayton, Dayton, Ohio, USA. He is the Director of the Center of Excellence for Computer Vision and Wide Area Surveillance Research (Vision Lab) at UD. His research activities include development of novel algorithms for human identification by face recognition, human action and activity recognition, brain signal analysis for emotion recognition and brain machine interface, 3D scene creation from 2D video streams, 3D scene change detection, and automatic visibility improvement of images captured in various weather conditions. He received his BS in electronics and communication engineering from the University of Kerala, India, and M Tech and PhD degrees in Electrical Engineering from the Indian Institute of Technology, Madras. Prior to joining UD in February 2010, he worked as Professor in Electrical and Computer Engineering at Old Dominion University, Norfolk, Virginia for 10 years. He worked at National University of Singapore during 1996-98 and led a research team for the development of a vision-guided microrobotic endoscopy system. He also worked at Nanyang Technological University, Singapore during 1998-2000, and led the computer vision and image processing related research activities in the Center for High Performance Embedded Systems at NTU. He holds three patents and has published more than 480 research papers, including 80 peer-reviewed journal papers in the areas of image processing, pattern recognition, machine learning and high performance embedded systems. He has supervised 20 PhD dissertations and 32 MS theses during the last 14 years. Currently 18 graduate students are working with him in different sponsored research projects. He is participating in several federal and private funded research projects and he has so far managed around $15M research funding. He received several teaching, research, advising and technical leadership awards. He is a Senior Member of IEEE and SPIE, and member of the IEEE Computational Intelligence Society. He is the co-organizer of several SPIE and IEEE conferences and workshops.
Abstract:
Emotion recognition by analyzing electroencephalographic (EEG) recordings is a growing area of research. EEG can detect neurological activities and collect data representing brain signals without the need for any invasive technology or procedures. EEG recordings are found useful for the detection of emotions through monitoring the characteristics of spatiotemporal variations of activations inside the brain. Specific spectral descriptors as features are extracted from EEG data to quantify the spatiotemporal variations to distinguish different emotions. Several features representing different brain activities are estimated for the classification of emotions. A brain machine interface using EEG data facilitates the control of machines through the analysis and classification of signals directly from the human brain. The collected EEG data is analyzed by an independent component analysis based feature extraction methodology and classified using a multilayer neural network classifier into several control signals for controlling a robot. The system also collects the data of electromyography signals indicative of movement of the facial muscles. Research work is progressing to extend the range of controls beyond a set of discrete actions by refining the algorithmic steps and procedures.
Keynote Forum
Swansea University, UK
Time : 10:35-11:05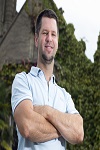 Biography:
Robert S Laramee received a Bachelor's degree in Physics, from the University of Massachusetts, Amherst (ZooMass). He received a Master's degree in Computer Science from the University of New Hampshire, Durham. He completed his PhD from Vienna University of Technology (Gruess Gott TUWien), Austria at the Institute of Computer Graphics and Algorithms. He was a Researcher at the VRV is Research Center and a Software Engineer at AVL in the Department of Advanced Simulation Technologies. Currently, he is an Associate Professor in Data Visualizaton at Swansea University (Prifysgol Cymru Abertawe), Wales in the Department of Computer Science (Adran Gwyddor Cyfrifiadur). His research interests are in the areas of big data visualization, visual analytics, and human-computer interaction. He has published more than 100 peer-reviewed papers in scientific conferences and journals and served as Conference Chair of EuroVis, the premiere conference on data visualization in Europe.
Abstract:
With advancements in multimedia and data storage technologies and the ever-decreasing costs of hardware, our ability to generate and store multimedia data is unprecedented. However, a large gap remains between our ability to generate and store large collections of complex, time-dependent multimedia data and our ability to derive useful knowledge from it. Viewing multimedia as a data source, data visualization exploits our most powerful sense, vision, in order to derive knowledge and gain insight into large, multimedia data sets that describe complicated and often time-dependent events. This talk presents a selection of state-of-the art visualization techniques and applications applied to multimedia in order to explore, analyze, and present video data. In this case, we show how glyph-based visualization can be used to convey the most important information and events from videos of rugby games. The talk showcases some of visualization's strengths, weaknesses, and, goals. We describe inter-disciplinary case-study based on rugby sports analytics, where visualization is used to address fundamental questions, the answers of which we hope to discover in various large, complex, and time-dependent multimedia data.